PHROBIS C.U.K
USE BY
SEAL TEAMS
OPERATION DESERT STORM
Made in 1991
(sterile blade)
Black Zytel scabbard and handle. Any markings on the blade & scabbard
Number made :

According the M9 BAYONET THE AUTHORIZED HISTORY from this year 2018 book by Richard Neyman :


458

CUK were made from sept. 1991 to sept. 1992 (includes both variations)
Less of 250 first variation were sold to NAVAL SPECIAL WARFARE COMMAND and issued to SEAL TEAM

Blade : 425 M Stainless Steel 57 plus RC hardness
For the story, the SEAL's broke quickly these knives and were weeded out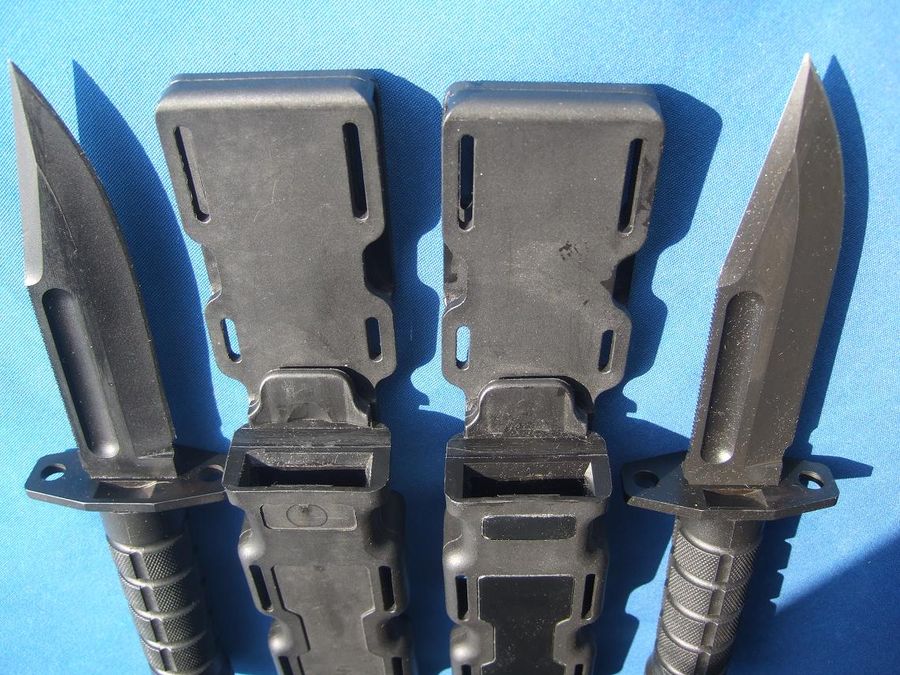 The CUK was carried by SEAL teams from both the east and west coasts in DESERT STORM.
In the june 17, 1991, NewsWeek published an article on SECRET WARRIORS includes a photograph of a SEAL wearing the CUK.
The knife was also produced with a PHROBIS marked blade for general military and commercial sales. This version proved quite popular with the MARINES and NAVY personnel departing for the GULF campaign from the west coast.
The marked knives were produced mostly in black Zytel as well as a few in green.

In april of 1991, PHROBIS ceased operations and the BUCK KNIFE COMPANY purchased its patents and remaining equipment.
(Copyright 1992 by Homer M. BRETT)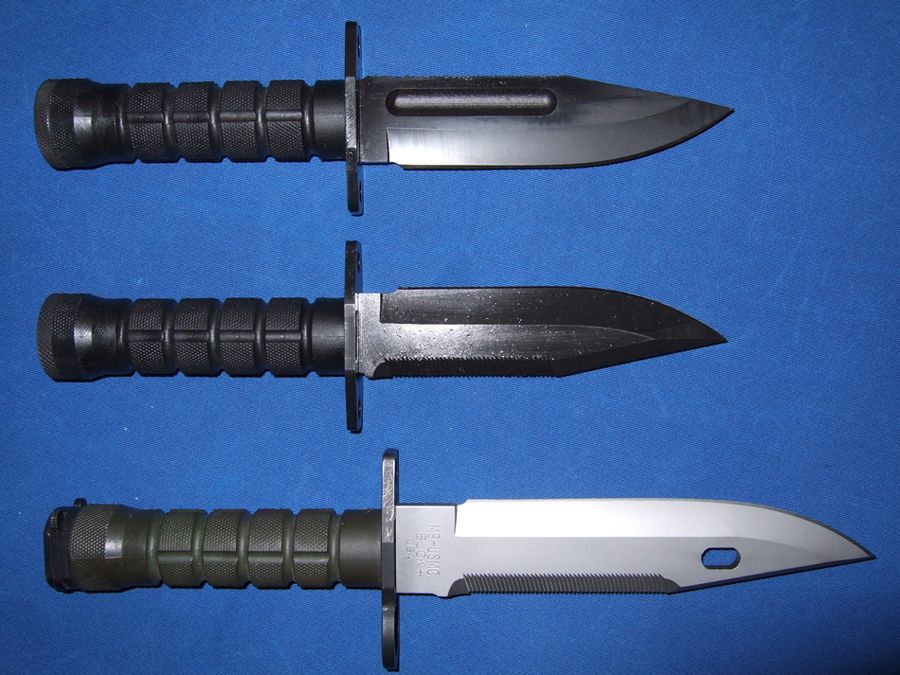 Difference lengths between the knives PHROBIS C.U.K. and the M9 bayonet U.S.M.C. BUCK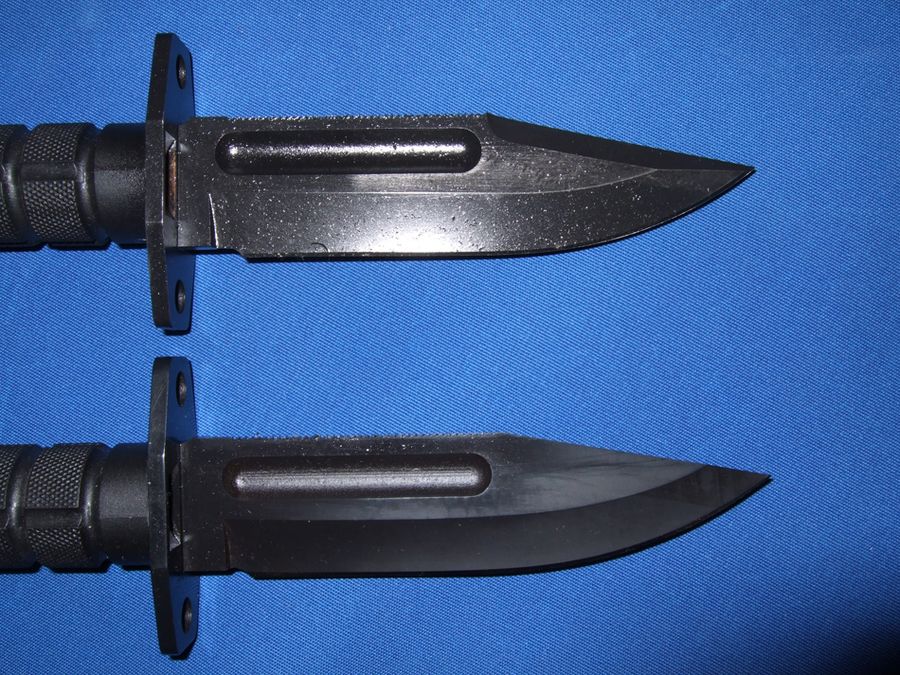 UP : 1st VARIATION ... DOWN : 2nd VARIATION
(first model had a false edge that was beveled on both sides.) VS the 2nd model : single bevel false edge.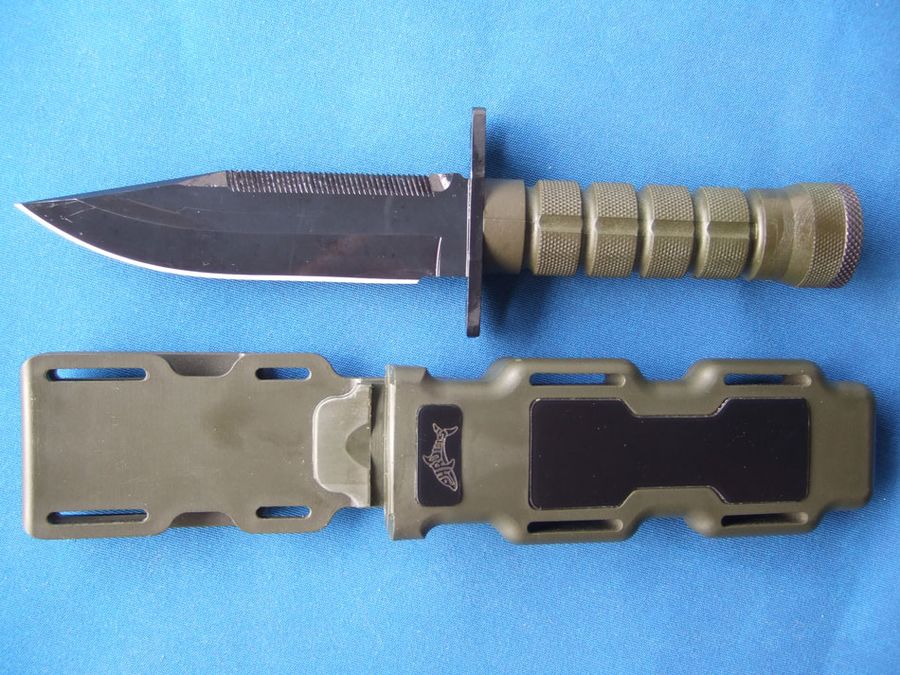 An early OD colored C.U.K with a sterile blade and markings on the scabbard ... ( Era :1st war-gulf)
According Master Bill PORTER : ..."

The sterile green ones are much harder to find than the black ones

..."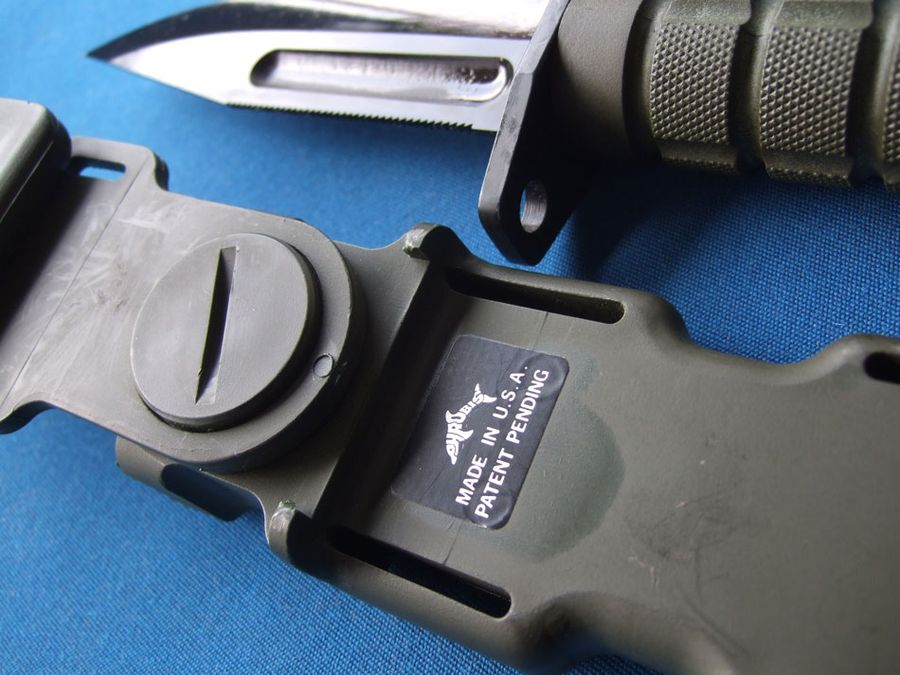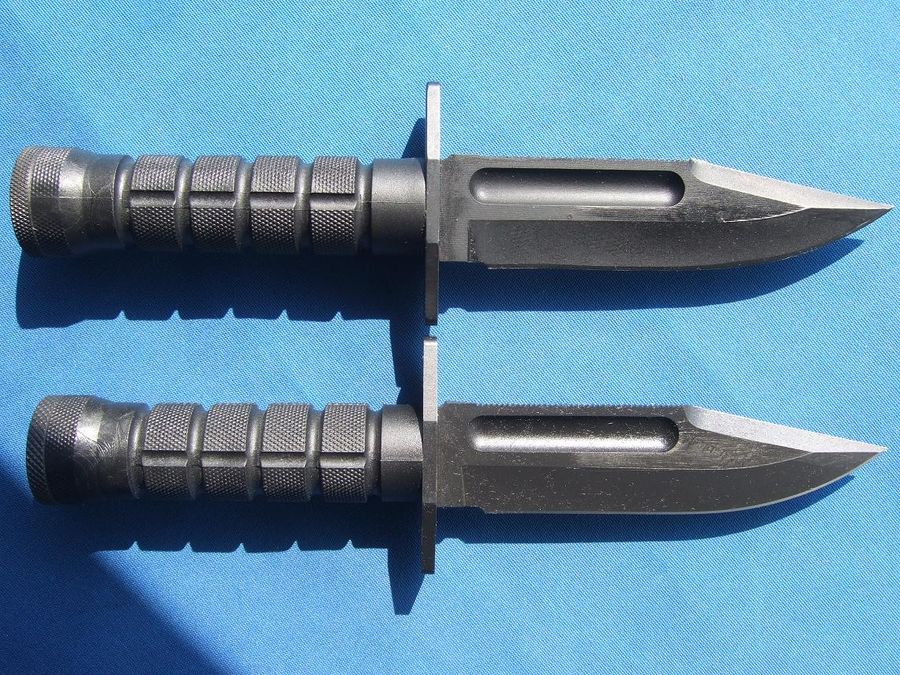 Photo up : Two various lengthes handles for these 1st variation
The Phrobis CUK got rave reviews from the cutlery media-including FIGHTING KNIVES (FK , Spring 1991), but sources at Group 1 soon advised our staff of serious problems with the design . "SEAL contacts reported both blade and blade tang failure," we reported in our Summer 1991 issue, and the CUK was evaluated once again by FK with our test-knife being broken the second time around. Sent to Wong's Forensic & Metallurgical Engineers for metallur­gical evaluation, "to determine the cause of the fracture," we discovered that Phrobis was using an improper steel for the heat-treatment being applied. They had failed to note a design flaw that pitted the softer blade tang against the much harder steel connecting link mating the han­ die to the blade. The result? Broken CUKs. When our exposé hit the stands, the CUK hit the junk pile and the SEALs-at least on the West Coast were once again looking for a better mousetrap. (From :
FIGHTING KNIVES

NOVEMBER 1994
)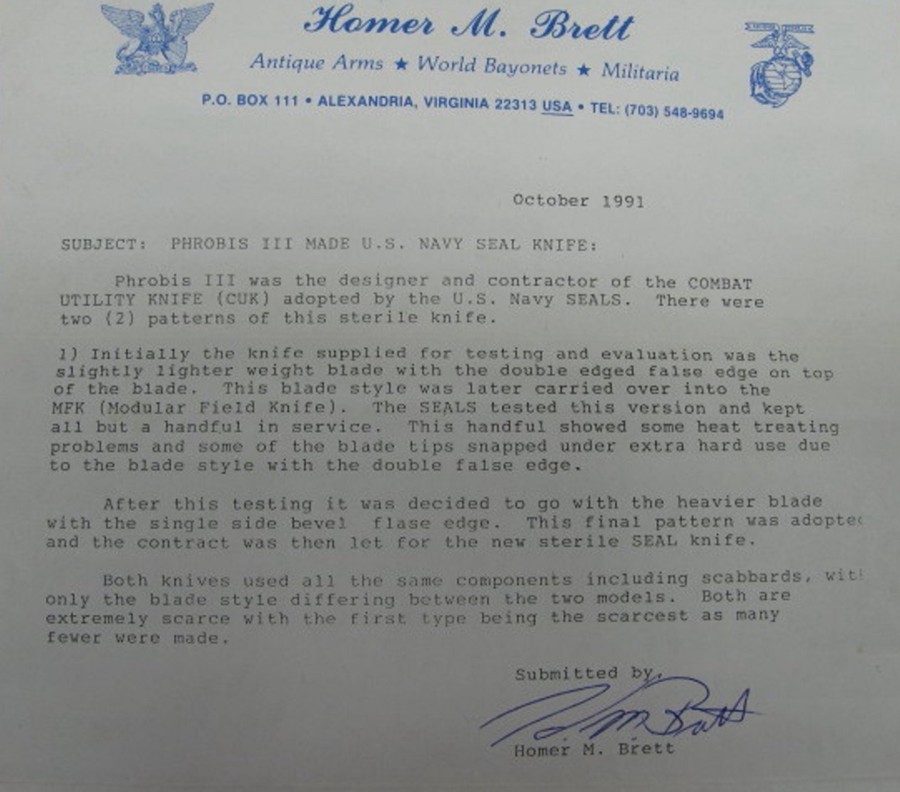 Mardi 26 Septembre 2023 -

- &copy 2023